DIANE CHANDLER AUTHOR
WINNER OF THE PEOPLE'S BOOK PRIZE 2016 FOR FICTION
---
EVER FANCIED CREATIVE WRITING?
Our Creative Writing Workshops for Beginners
are currently on hold.
Contact me for news of our new online workshops by Zoom
"There's something about the relaxed atmosphere they create which helps to loosen the anxieties of writing"
"An absolutely brilliant course. Clear, concise, full of humour"
"Nurturing, productive and inclusive"
"Exceeded my expectations... cosy, intimate, yet professionally run"
"Booked it as a treat for myself and what a treat it was!"
"Lovely style of the workshop leaders. Complemented by knowledge"
---
How can you long for someone who doesn't exist?
Cat has always been in control of her life. Happily married to Dom, but flying high as a political lobbyist, she dismisses his desire to start a family ... until she herself is ready.
But what if it is then too late?
"An absorbing tale of romance, idealism, love, success, human frailty, vulnerability and imperfection... Chandler does not miss one twist or turn of the emotional rollercoaster that is an infertility journey"  
BICA JOURNAL OF FERTILITY COUNSELLING
"Utterly beautiful... an outstanding novel that completely bewitched me from start to finish" THE BOOK MAGNET
"Insightful, poignant and profoundly touching"
WHAT BETTER THAN BOOKS
"Chandler has created a masterpiece in wrapping a highly sensitive, emotive storyline with scenes of warmth and humour...will tug at your heart and never leave your mind"
KRAFTIREADER
"This novel will stay with me forever"
THE ADDICTION OF BOOKS  
---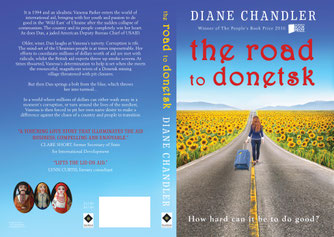 The Road to Donetsk won The People's Book Prize For Fiction 2016.
It is 1994 and an idealistic Vanessa Parker enters the world of international aid, bringing with her youth and passion to do good in the 'Wild East' of Ukraine after the sudden collapse of communism. The country and its people completely win her heart. As does Dan, a jaded American Deputy Bureau Chief of USAID...
"A touching love story that illuminates the aid business. Compelling and enjoyable." 
CLARE SHORT (former Secretary of State for International Development)
"Lifts the lid on aid."
LYNN CURTIS, literary consultant
"I felt for the characters, their pain, their frustration, and their joy... it had the kind of emotion that keeps me turning the pages of a book long past when I should have put it down."
US ONLINEBOOKCLUB.ORG 
main photo credit Sandi Friend http://www.sandifriend.co.uk