DIANE CHANDLER AUTHOR
WINNER OF THE PEOPLE'S BOOK PRIZE 2016 FOR FICTION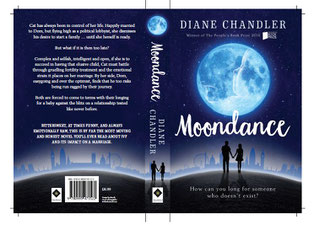 Cat has always been in control of her life. Happily married to Dom, but flying high as a political lobbyist, she dismisses his desire to start a family… until she herself is ready. But what if it is then too late?
"The most honest and emotional novel you'll ever read about IVF and it's impact on a marriage"
Moondance - published by Blackbird Digital Books on 1st November 2016
---
My first novel, The Road to Donetsk has just won The People's Book Prize For Fiction 2016.
 Praise for The Road to Donetsk:
"A touching love story that illuminates the aid business. Compelling and enjoyable." 
CLARE SHORT (former Secretary of State for International Development)
"Lifts the lid on aid."
LYNN CURTIS, literary consultant
"I felt for the characters, their pain, their frustration, and their joy. And I felt it strongly. It had the kind of emotion that keeps me turning the pages of a book long past when I should have put it down. I would recommend to anyone who likes reading about different areas of the world, or enjoys a love story." US Onlinebookclub.org