Another delivery of Moondance for our calendar of events...
In 2016 I was honoured to win the People's Book Prize for Fiction for my first novel, The Road to Donetsk. Sky News covered the evening at the grand 16th century Stationers' Hall in the City of London. I dedicated the award to the people of Ukraine.
Watch at 20.30 mins on this link https://www.youtube.com/watch?v=M0fCuNbY-ns
With my publisher Stephanie Zia, of Blackbird Books, and fellow Blackbirds, Susie Kelly and Tanya Bullock, also shortlisted for the People's Book Prize in 2016. A wonderful night all round. 
Accepting The People's Book Prize on stage with other finalists and Frederick Forsyth, patron of the prize
Europe: Some Soft Arguments to Remain - From a Former EU Official
http://www.huffingtonpost.co.uk/diane-chandler/eu-referendum-remain_b_10576568.html
Get your tickets now for the Books Unbound Literary Festival 25th and 26th June 2016 at 
https://www.universe.com/events/books-unbound-literary-festival-25-26-june-2016-tickets-bayswater-4CVKNS
June 2016: Writing From Life Event at Richmond Adult Education College. Discussing,together with fellow author Susan Lee Kerr, how I wove life experiences into The Road to Donetsk.
The Road to Donetsk event at the Kyiv Book Festival this week, with Blackbird publisher Stephanie Zia and our wonderful interpreter Tanya Yakimenko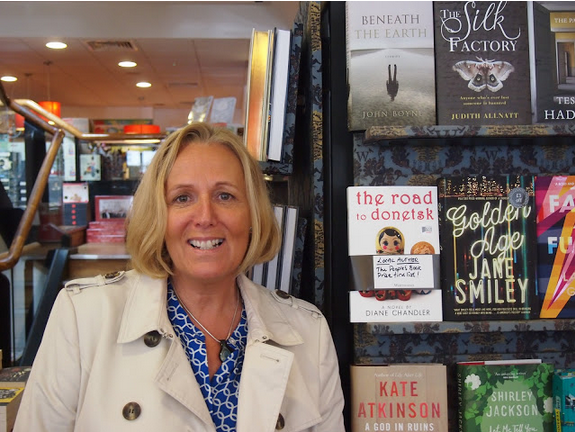 Waterstones Chiswick host an event on publishing, November 2015
Review of The Road to Donetsk by ONLINEBOOKCLUB.ORG 
The Association of Ukrainians in Great Britain host a promotional event for The Road to Donetsk. July 2015.
Clare Short, Former Secretary of State for International Development, at the launch of The Road to Donetsk, January 2015.