My next novel, Moondance, will be published by Blackbird Digital Books in November.  
Cat has always been in control of her life. Happily married to Dom, but flying high as a political lobbyist, she dismisses his desire to start a family… until she herself is ready.
But what if it is then too late?
More news coming soon.......
Hello
The cover of The Road to Donetsk has been causing some discussion among members of the Association of Ukrainians in Great Britain. When I introduced my novel at an event there, back in the summer, several women told me they would like to see the cover changed, as the dolls are Russian not Ukrainian. A couple of Amazon reviews have agreed ("The only thing that stops me giving this 5 stars is the Russified transliteration of Ukrainian names, and the design of the front cover.") I have to admit hands up here! For me the image represents that general region of the world for a Western reader - and not specifically Russia, and I did research the origins of the dolls before creating the cover. I found that, while they were first conceived in Russia at the end of the 19th century, they soon spread to other neighbouring countries, including Ukraine, where indeed I bought my own set. However, I am told that Ukrainian dolls are quite different, rounder, with designs specific to this nation, and so am wondering whether I should change the cover of my novel....Vanessa in her shirt and jeans was uniquely created by a cartoon artist, however, and stands proudly on my mantlepiece at home, so she would remain in the picture whatever! Please do contact me via this website if you have a view?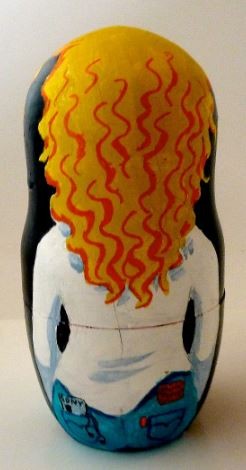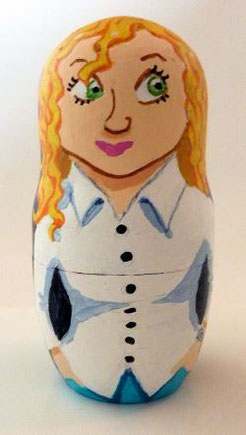 After much consideration, over several glasses of wine, we have responded to the feedback from many Ukrainian readers, who felt that the cover of The Road to Donetsk was not representative of the substance of the novel! A fantastic Ukrainian artist, Natalia Yatseniuk, (www.etsy.com/shop/agats) has painted these gorgeous eggs for our new cover. The Western egg is of course based on the original Matryoshka doll, Vanessa, which still stands proudly on my mantlepiece - albeit now next to the fabulous egg, Vanessa. We are taking our new cover off to Kyiv this week to take part in their International Book Festival at the Mystesky Arsenal. Come and hear all about the novel there on Thursday 21st April at the Cafe Europa International Stage.